Dear Friends,
I must tell you about my revelation this week! I love comics and I love reading manga and I am interested in the new artists, but I found this artist by pure mistake browsing from blog to blog. My revelation for this week (and I think I may say with the hand to my heart even the revelation of the month!) is the Californian artist:
Ryan Andrews
.
I am sad to say that on
FB Page
I see only 2672 likes :O He is a truly talented and gifted lad. I may even presume to say that he has golden hands. When you look at his work and read his short stories for which he does the ilustrations you just think where did he get these ideas from?!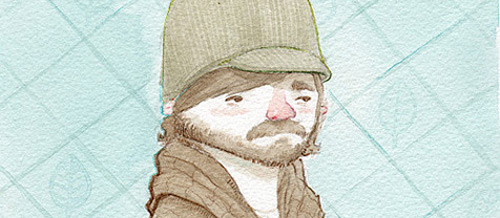 After graduading high school he decided upon moving to South California to find - as he also states - "fame and fortune". Sadly enough he did not find that but he did manage to get an internship at a 3D animation company. Aside that he also attended the Watts Atelier of Arts for a while, where he learned how to draw "decent" faces (as he said in his bio). The sad part is that during that time he mostly lived off peanut butter sandwiches and tap water for 2 years - check his bio ;) He now spends his time in California and Japan (his latests works are definetely influences by japanese culture).
You can see his work on his FB Page (linked above in this article) or on
Drawn!
the illustration and cartooning blog. You can also find 4 of his short stories in comic
here
:) My favourite one is
Sarah and the Seed
and it is also his first work published and has been honored with an Eisner Award nomination in the Best Digital Comic category.
You can contact him directly at:
ryan.a.illustration@gmail.com
Or you can contact his agent for rights information or questions regarding projects.
Jennifer Linnan
Linnan Literary Management LLC
tel: 347-633-1430
jen@linnanliterary.com
I am adding to this post some of the illustrations I really resonated with. For example this one, with the young lass sitting on the boat with her hair in the wind is just wonderful! I wish I would be able to buy it and just frame it and sit it above my bed... it is just way to dreamy, and the colors are so soft and earie somehow... weird thing though, for me it looks like she is holding a knife at her back... tricky lass this one! Aparently this imagine is the cover for a young adult historical fiction novel - The True Confessions of Charlotte Doyle, published by Scholastic.
And the imagine of the young lad sitting by the monument in the middle of the night, watching the stars, watching the Milky Way and thinking of his life is just epic :) I would just draw that in my children room (when I will have children, of course)... look at that Milky Way! It looks so real and it just catches your eye and you feel that you may actually be that lad sitting down in the grass and gazing at the sky!
Oh! And just look at this sketch for my fav story - Sarah and the Seed. It is just such a beautiful story that "it had me at Hello!" - I did not need to read other stories by Ryan (although I did, as he rules!!! You just want more and more!) to know that he is magical and what comes from his hands is gold. I just wish that more people would know of him and he would be able to print his stories. I encourage you to start with Sarah's story and let yourself be fascinated by the darkness in which Ryan brings you in order to bring you to the light a bit later on, after you would have a shock ;)
I you wanna know more about his technique and his process in creating these beautiful work of art please go
HERE
and read more about it ;) You will see how much he works for one small print and you will understand his patience and his love of art without which these works of art would not exist. And I, for one, thank the Lord that he exists and that he does these wonderful things! I wish him the best of luck and I will always promote what he does even though he will never probably know of me :)
I did this review for the love of art and for the love of comics and for the love of sketches.
I did this review because I believe that one day people like Ryan Andrews would be aknowledged.
I did this review for the people who - like myself - love art and new ideas and new stories.
I did this review because I believe that everyone should share the love! :)
Yours truly,
The New Ryan Andrews fan :) The LadyBug :*