Dearest hearts,
Since we are born we begin to look for someone whom we could look up to. Someone whom we could take as an example for our life, someone who touches us in a certain way that our strings vibrate and we seem in tune. Of course, we start looking up to our parents, then we go to school and we look up to our teachers... in time our views change and for each period of our stay on this blessed land, we have someone or something to look up to.
Childhood times are the times when one tends to have quite a lot of role models. It's the time when we get in touch with literature, art and we begin to spend a bit more time on the telly, watching (hopefully) educational programs and movies. The child's mind at that point is like a sponge, taking everything in, so I am sure that at that point in your life you also had - just like me and many others - some actors that you looked up to. Maybe they even got you thinking once that you may like to be an actor.
***
There are many things I remember from my childhood but my love for movies and books and taking pictures probably surpasses it all. I remember falling asleep with watching movies with my father and collecting (just like my mother when she was younger) pictures of actors I liked. But enough chit chat; let me now present you my list of "influential actors of my childhood":
The most adorable nanny: Mary Poppins
1.
Julie Andrews
- you can pick any movie of hers and I will solemnly swear that I have seen it and that I think she did a marvelous job! She is that old style cinema star that melts your heart. I remember her since I was a wee lass... I think my first movie of her that I have seen may have been
"Mary Poppins"
and wondering if I could ever have a carpet bag like that, that would be able to fit all of that in. I am still waiting for that and Hermione made it even worse with that cute beaded bag that she could fit a home in! It was either that or
"The Sound of Music" - my beloved musical, that made me wish I could be as elegant and sing as lovely as she did. She is truly a lady that knows how to behave and what to say. She grew old so beautifully
... my heart aches for her voice that she lost in a wrong procedure (operation).
I really recommend reading her memoir book
; there is so much we underestimate about her, her strength and character make you wish you could know her in person.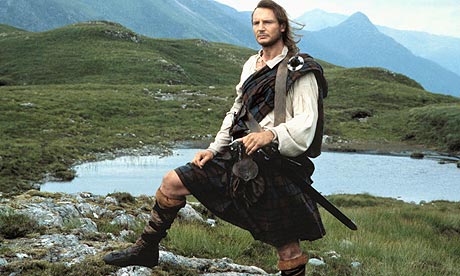 Young Liam as Rob Roy
2. Liam Neeson - for people nowdays he is the character that "will find you and kill you" from the Taken series. For me, he is the hero called Rob Roy, wielding the sword like no other and fighting for love and freedom and honor; he is the true Jean Valjean from Les Miserables, with true strength (have you seen the size of his hands? Have you seen how tall and strong he is?!) But also with a warm heart and a smile that makes your heart skip a beat; he is the loving Jerome Lovell who helped Nell... for me Liam is the kind hearted person you would love to have as a friend. Somehow when I was small I thought of him being larger than life. He is the most fatherly figure I can remember from the heroes of my childhood.
Scarlett & Rhett
3.
Vivien Leigh as Scarlett O'Hara
- oh! I remember watching this on
TNT
. It was always scheduled really late at night, after 10, so it was hard to catch it unless it was not holiday time or a weekend. I remember falling at love with her at first sight and rooting for her and that dark gorgeous Rhett.
I never liked Ashley and I could never see what Scarlett saw in him! Rhett was much more handsome and string and cared deeply for her... when I was small I wanted to be Scarlett but now I see her and I realise that she was a woman hard to love.
I loved her piercing eyes and her curly hair waves, the way she rushed elegantly into a scene...
I loved her for her stubbornness and I loved Vivien for being able to portray her in such a way.
I also recommend seeing her portrayal of Cleopatra ;)
Bond. James Bond.
4.
Sean Connery = the true gentleman = the true Bond, for me at least
.
He has this amazing accent that makes you melt instantly... the way he moves and acts is just perfect fitting for the roles that he plays. I have not seen a single movie with him that I have not loved.
I recall the first time I saw him as Bond... both me and my sister just fell for him (and we rarely fell for the same character - for example, in
Dallas
series, I loved Bobby and my sister liked JR.). And
I must admit he is the kind of old style actor that gets even better with age! Just like a fine wine!
P.S.
Daniel Craig comes as a tie with Pierce Brosnan for the 2nd place for Bond
;)
5.
Dick van Dyke
-
well he would come at first paired up with Julie Andrews in Mary Poppins "practically perfect in every way", carpet bag included! They are one of the loveliest candid love stories on screen and their chemistry is just delicious. Their voices combine like magic and when they both smile you truly feel that everything is "Supercalifragilisticexpialidocious
" :) After MP I saw him in Chitty Chitty Bang Bang and I was sad to see him paired with a different lady, but I laughed nonetheless and was thrilled every second. All topping up with his very own series - that I rewatch from time to time - "
The Dick van Dyke Show
". Make sure you drop by YouTube as full episodes are posted there ;) if you love old time black and white movies with the laughter in the background you will like this ;)
BTW, guess who's turning 90 in 10 days! That's right! This lovely lad! :)
When people age beautifully...
6.
Christopher Plummer
-
another adorable pairing with Julie Andrews (by this time, you may have realised the huge crush I had on Julie Andrews and on musicals). The first time I have see Mr. Plummer was in The Sound of Music - as Captain von Trapp.
Make it Captain von Trapped in his own sorrow and misery, missing his dead wife (already sobbing for him, aren't you!?). Add to that 7 kids of all ages from "16 going on 17" and below.
This year, this February, this wonderful movie/musical celebrated 50 years since it was released
. Their relationship - Julie's and Christopher's - continued off screen as well and it was lovely seeing them in time, still caring about eachother.
The looks that they give eachother are one of the warmest and caring I have seen. It is nice to know that friendships still can happen in Hollywood and stay / remain on the long term.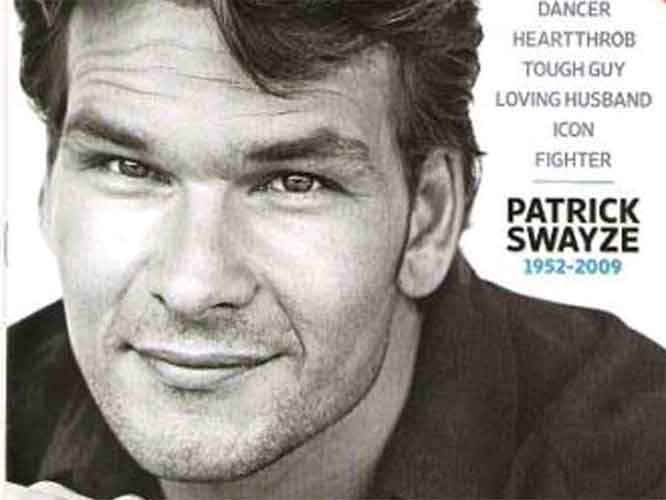 7. Patrick Swayze - the most attractive and talented dancer of my childhood. It was hard not to fall in love with him, considering the parts he played. My favourite 2 movies with him were, are and always will be Ghost & Dirty Dancing. But the very first part I have seen him play was in North and South - as Orri Main, representing South Carolina. Patrick was a combination of rough exterior with a smooth and silky, romantic inner core. Possibly also because of that he always loved ballet. He also scored The Sexiest Man Alive title in 1991 - well deserved, to my humble opinion! But the best of all was that he lived a full life and found true love - he met his wife when he was 15! "We're a team. A relationship survives because of keeping the friendship alive and learning how to fall in love over and over again and never taking the other person for granted and seeing things in a new light with new eyes. We're big believers in, arguments are okay as long as it's not about your ego, but it's about a mutual goal—trying to create something special," he said.
8. Robin Williams - Oh Captain, my Captain! How I cried when you went away. The friend of my childhood that will no longer say Gooooooooooood morning Vietnam! You will no longer put on the red nose and make little children smile... oh, how I wish you would not have done that and that you could still be here with us, doing brilliant movies. You were never afraid to look ridiculous as long as you made people laugh/smile - I remember being small and watching Mork & Mindy and Mrs. Doubtfire... you were brilliant! He was truly a dramatic actor that only wanted one thing: to be loved - don't we all wish for that?!
Ralph and Maggie - The Thorn Birds
9. Richard Chamberlain - as Ralph de Bricassart in The Thorn Birds, paired with Rachel Ward as Maggie... oh! That was just heartbreaking :((( I remember being a wee lass and watching this with my sister and granny... I think theoretically we were not allowed but we enjoyed it immensely. Seeing Maggie grow up and Ralph falling in love with her - from being a guardian and a friend to... having a child together... some may consider that today as very wrong, child corruption/molesting and so on... but back then I was really rooting for the handsome priest to have fulfilled love. I guess I could not foreshadow that myself will be marrying a lovely blue eyed boy who was meant to be a priest.
Maggie - Now and Then
10.
Maggie Smith
-
you may know her as Violet Crawley or the Dowager Countess of Grantham; maybe as the motherly figure of Professor Minerva McGonagall in the Harry Potter series... I know her even before that :) I think one of the first movies I have seen her in was as Charlotte Bartlett in A Room with a View, alongside a very young and maiden like Helena Bonham Carter & in Sister Act as Mother Superior. But the adorable way she played Betsey Trotwood in the David Copperfield mini series topped it up.
She played there with
Daniel Radcliffe (Harry Potter)
and she was such a motherly figure to him that she was the one whom proposed him for the
Harry Potter
part. She is the old type lady, who knows how to keep herself private and away form the prying eye of the audience. She is smart and knows exactly what and when to say things. She does not consider herself as a star and she always said she had many things to learn and improve - she is a perfectionist!
Maggie Smith can be acid and she is so good at this that her second half of her career was filled with this type of roles.
Just as a FYI
she is a very good friend of another adorable lady: Judi Dench! Did I mention also she is one of only a few actress to win a Best Supporting Actress Oscar after winning a Best Actress Oscar?! She rocks!!!
+ Special mention: Christopher Reeves - I know! As if I don't know myself that my top 10 has already too many amazing actors, I am also adding a gentleman on the "special" list... I am sorry, but I am a girl so it is easier to fall in love with the male actors and remember them throughout my life. It would be a bit odd to see myself paired up with Julie, hence I am choosing my very own Super - Men ;) now Christopher Reeves was my very own heartbreak when I read the news that he had an accident while riding. For me, he will always be the true Superman. He was the one who raised the bar for the next superheroes to come.
How about you? Which were the actors that influenced your childhood? Whom do you remember the best? Who was your childhood crush and for whom did you cry when he/she went away? Share your story with me, like I have... I somehow feel I am missing out a lot of great actors that "gave me the feels" when I was a wee lass... help me remember them :)
Yours truly,
The Twisted Red LadyBug that loves movies and actors