Dearest sweethearts,
Autumn is here and Winter is coming soon... that means that fog and smog is coming soon our way. As "Reuters" agency also points it out, the Polish institutions are not moving fast enough against the smog. They are not improving the quality of the air fast enough as the country's Supreme Audit Office (NIK) would like. Cities in the South of Poland especially, have denser smog than New Delhi or Beijing (where you can buy cans of fresh air!). Main issues come from Polish citizen burning low quality coal or rubbish to heat their homes, combined with the density of new buildings that do not leave the air to circulate properly.
Don't know whom is the artist. If you do, let me know so I can put in the credits. The image is brilliant IMHO
"Poland still has one of the worst air qualities in the European Union", NIK said. The European Environment Agency says pollution leads to more than 44000 premature deaths in Poland a year! Poland, that generates most of its electricity through coal burning, hosts the United Nations climate talks in December. Around 200 government environment ministers will meet and discuss the details from the 2015 Paris climate accord.
Early morning, November 2015, Krakow, Poland
#DidYouKnow that Poland is the only member state of the EU that is yet to formally adopt the Doha Amendments? Under its terms, by 2020, Poland must reduce the amount of carbon dioxide it produces by 20% from the 1990 level of production.
Poland's pollution level is a constant frown on its inhabitants. During Autumns and Winters you can see people on the street walking with smog masks on, and even production of such smaller masks (for babies) started being a trend.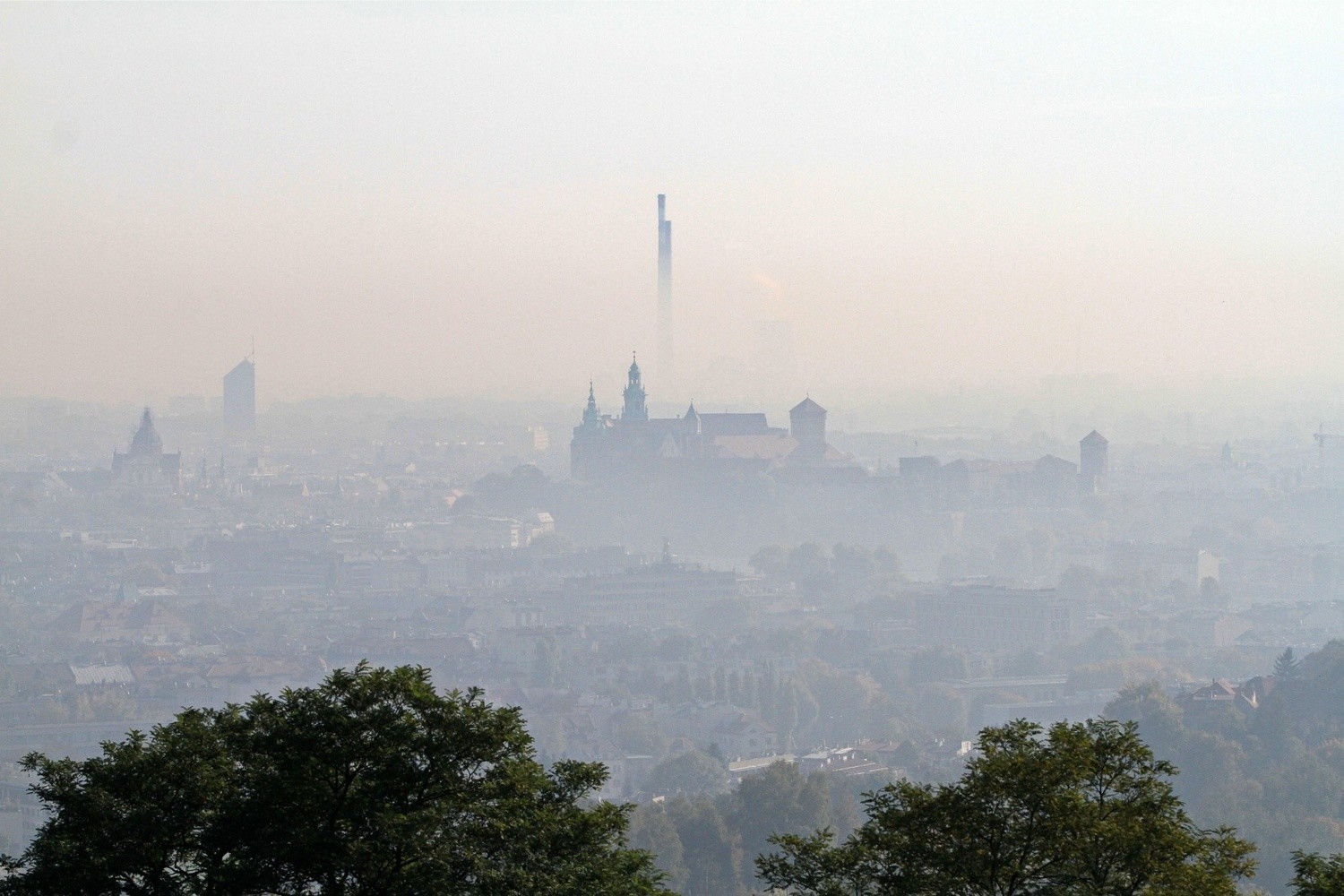 Krakow (Wawel Castle in the middle of the photo) under smog - photo taken from local news site
Take for example beautiful, majestic Krakow; with its amazing castle and it's unique Old Town... many of the buildings still have the furnaces that date back decades.
Krakow government has outlawed the use of the cheapest, most polluting coal, and by 2019 it aims to ban all coal and wood burning.
If Krakow succeeds, than it could serve as a role model to the other cities in Poland. But it's a hard thing to change, as it also involved changing the mindset of people! Still... Krakow managed to cut the number of outdated furnaces to about 10000 (from double that number several years ago).
A minus is the national government of the Law and Justice party (PIS), that always champions and raises glory to how powerful the coal industry is. In December 2017, Prime Minister Mateusz Morawiecki announced his plans to build 2 new coal mines in the Silesian region (already heavily polluted as it is...). On another hand, the government announced that it will spend 8.8 billion dollars by 2028 to combat smog. Oh... we take with one hand and we give with another... don't we?! Anyway, if you are living in Poland (or if you ever lived here before), I would love to hear what you think of this situation.
Yours sincerely,
The Twisted Red LadyBug That Loves Krakow